Regular price
Sale price
£660.00
Unit price
per
Sale
Sold out
excluding tax
Call us now 01132310500
755652681113
Share
View full details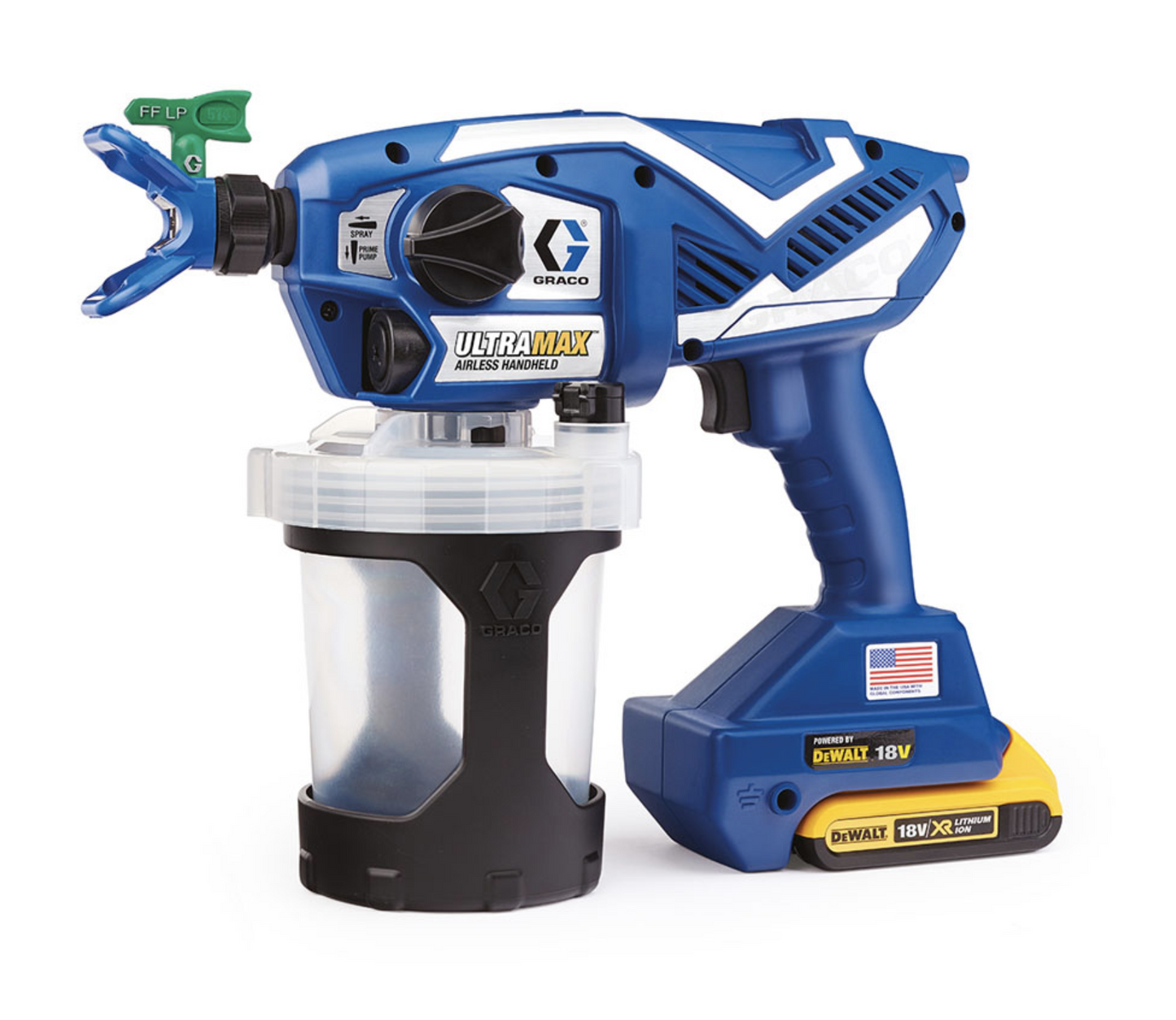 Description
ULTRAMAX AIRLESS HH CORDLESS, 2B, 240V
This Spray Gun is for both water and solvent-based materials

Graco's Ultra Max airless sprayers are handheld and cordless. They're are designed specifically for small interior, exterior and specialty projects. The advantages of the Ultra Max handheld sprayers are their portability and speed of use. Painting contractors can easily spray those small/touch up jobs without the hassle of having to start-up a larger airless spray machine.
Triax Triple Piston Pump Unmatched Performance
•Durable stainless steel and carbide components bonded with a high strength polymer
•Incredible durability in a light weight design
•34 to 135 bar
•.008-.016 Tip Support Reliable Startup
•No inlet check valve to get stuck
•Automatic Outlet Ball Knocker Perfect Airless Finish
•Smooth and even at any hand speed
•No Thinning
•Single Coat Coverage
 Powered by DEWALT XR Lithium Ion System
Proven quality contractor recognized battery manufacturer
3-LED fuel gauge system allows immediate feedback on state of charge
Lightweight design and 30% faster charge time (35 minutes)
Compatible with any DEWALT 18V Lithium Ion battery
Spray up to 1 gallon with each charge thanks to the DEWALT 18V Lithium Ion system
 Graco ProConnect
On-The-Job Pump Replacement System
One Tool Replacement - Replace the pump in 3 steps using only a screwdriver
Remove Phillips screws and door
Remove and replace pump
Reinstall door and screws
 SmartControl
Spray at any hand speed with a professional finish every time
Precision pressure control that delivers a consistent spray fan without pressure fluctuations
ProControl II
Adjust motor speed to spray at virtually any speed that the job demands - hear it working
More control allows users to spray at the speed they choose - a professional finish, fast or slow
RAC X FF LP Tips
Provides superior finish at low pressure 
Works on all Graco Airless Sprayers - everything from handhelds to large airless
Large range of sizes available to meet the job requirements
Reverse-A-Clean (RAC) SwitchTips deliver exceptional spraying results and make cleaning tip clogs simple
32 oz FlexLiner Paint Bags
Disposable liners eliminate cleanup time
Easy Setup
Fill FlexLiner Bag with material and attach to the handheld
Squeeze out any remaining air
Spray
Easy Cleanup
Fill FlexLiner Bag with cleaning fluid like PumpArmor
Shake sprayer
Spray into a bucket
No suction tube to clean
Toss or reuse, it's your choice
Just Add Paint
The sprayers comes ready to use with everything you need to get spraying
RAC X FF LP 410 Tip
RAC X FF LP 514 Tip
2 x D

E

WALT 18V-Max Compact Lithium Ion Batteries
D

E

WALT 18V-Max Lithium Ion Battery Charger
4 - 1 liter FlexLiner Bags
Durable Storage Bag
Free Shipping

We offer free shipping on orders over £100
Any help?

If you require any help or advice, or wish to place your order over the phone, please call +44 0113 231 0500. Alternatively, you can send an email to info@sprayplant.co.uk. Don't forget, we offer free delivery on orders over £100 ex. VAT!