Regular price
Sale price
£2,800.80
Unit price
per
Sale
Sold out
excluding tax
Call us now 01132310500
755652850373
Share
View full details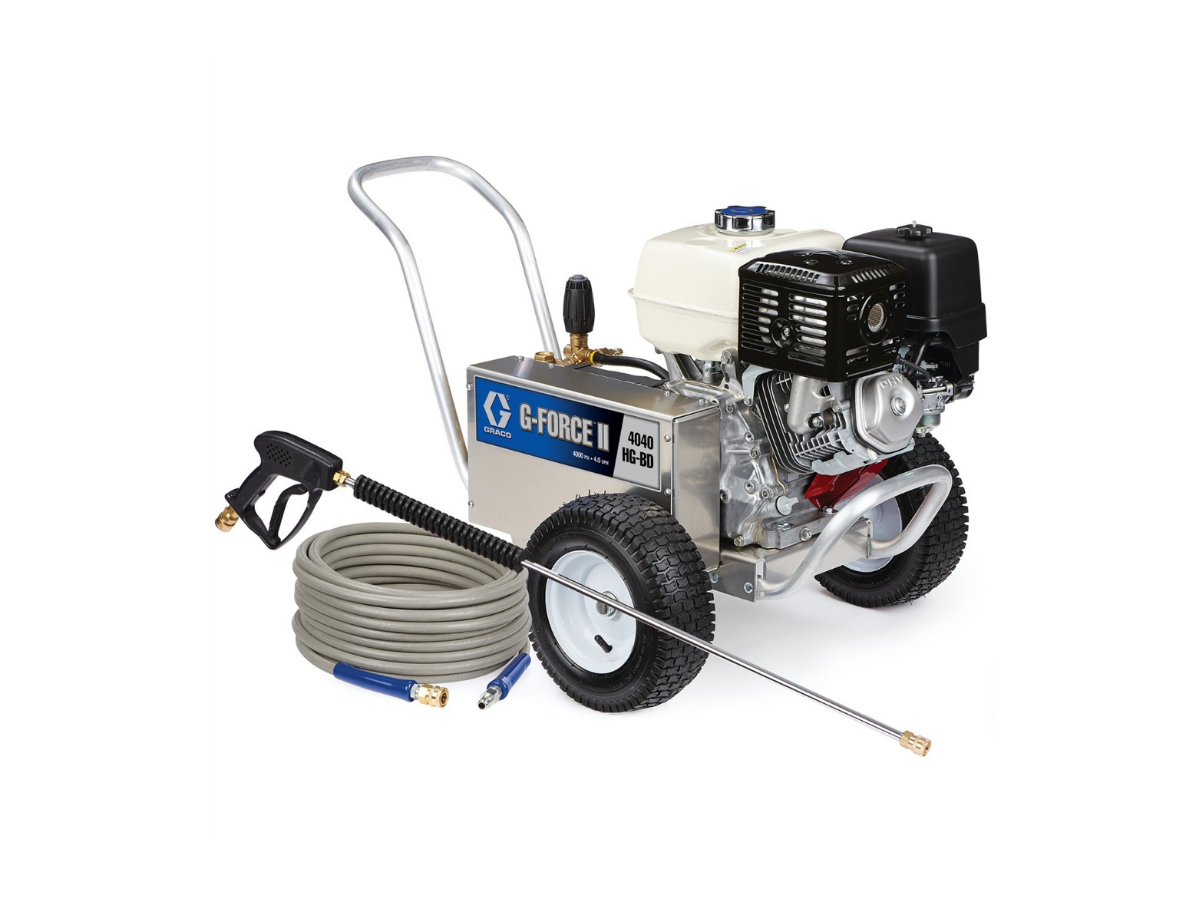 Description
This is a top-of-the-range unit from Graco. This machine is built to work all day, every day. The G-Force II 4040 HG-BD Pressure Washer would suit those who will be using it frequently and for long periods of time, best for professional painters and large contractors. With its powerful motor, there is no job too big for this pressure washer.
Key Features of the Graco G-Force II 4040 HG-BD Pressure Washer
Belt Driven 
Lower RPM (typically 900-1700 RPM) which results in lower operating temperature and a longer-lasting pump
Pump is placed away from the engine and includes a crankcase which allows for more oil capacity 
Pump vibration is less and suffers less pump fatigue 


Reliable, GP Triplex Plunger Water Pump External Pressure Unloader
Stress-free, adjustable pressure 
Ability to match application requirements 
Keeps water at a lower temperature and extends pump life


Honda GX390 Engine
Powerful, reliable, and easy to power up
Oil alert automatically powers down the engine to prevent long-lasting damage if the oil levels drop too low
Internal thermals sensor will prevent the pump from overheating in bypass mode


100% Heavy-Duty Aluminum Frame
Up to 40% than steel frame, for ultimate portability
Resistant to corrosion from chemicals and water
EZ Start Pressure Relief for Easier Starting and Integrated Unloader
Removes the need to pull the gun trigger while powering up the washer
Uses water bypass pump to stop pressure build-up in the system
Technical Specifications
Fuel Tank Capacity: 6.5 L
Hose Length: 152 cm
Hose Length: 15.2 m
Maximum Flow Rate:15.14 L/min
Maximum Working Pressure: 275 bar
Motor Series: GX390
Pump Type: Triplex Plunger
Type: Gas Pressure Washer
Pump Inlet: 3/4 ghf
Pump Outlet: 3/8 QC
Inlet Filter: 50 mesh 0.3 mm
Operating Temperature Range: 4° C - 63° C
Sound Pressure measured @ 3.1 ft (1 m): 92.2 dB(A)
Sound Power per ISO 3744: 106.4 dB(A)
Length:106.7 cm
Width: 68.6 cm
Height: 66 cm
Weight: 72.1 kg
Free Shipping

We offer free shipping on orders over £100
Any help?

If you require any help or advice, or wish to place your order over the phone, please call +44 0113 231 0500. Alternatively, you can send an email to info@sprayplant.co.uk. Don't forget, we offer free delivery on orders over £100 ex. VAT!