Regular price
Sale price
£1,291.67
Unit price
per
Sale
Sold out
excluding tax
Call us now 01132310500
755652421092
Share
View full details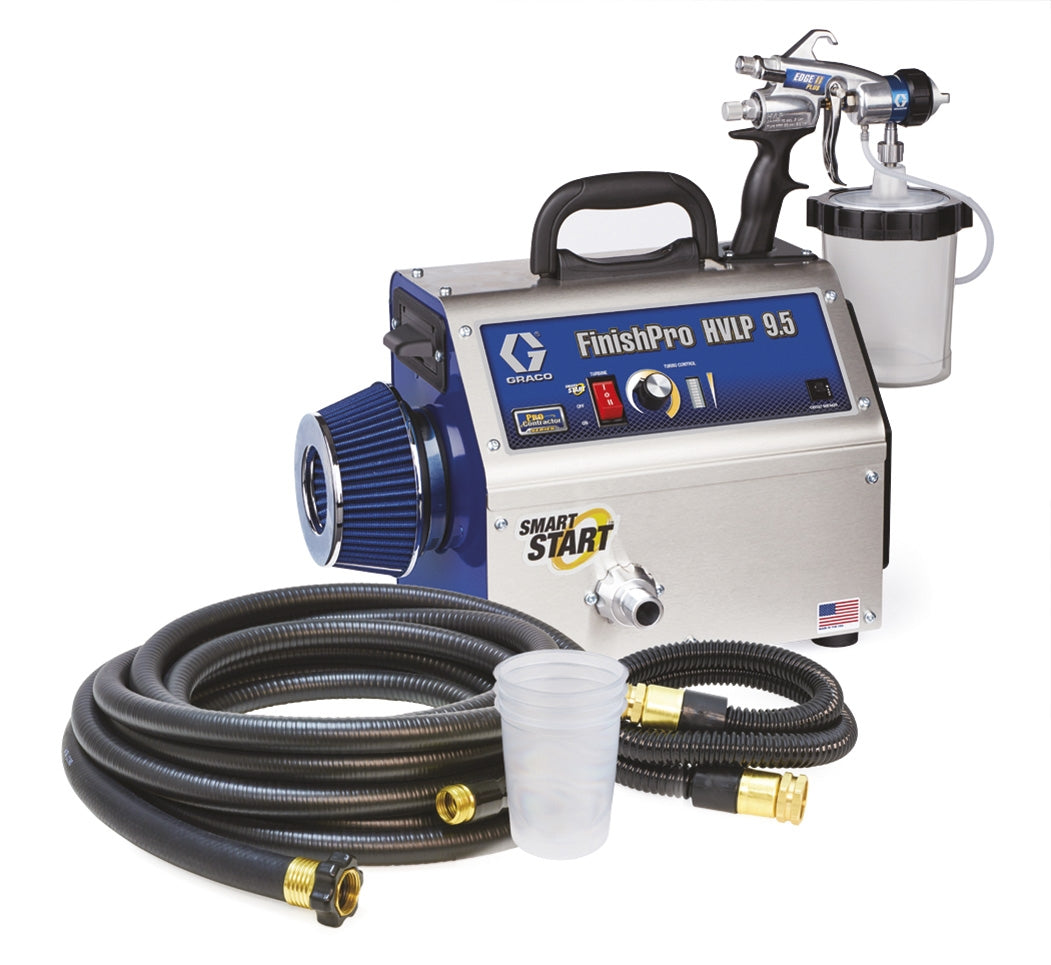 Description
Graco HVLP TurboForce 11 Procontractor 9.5 230V
The Graco Turboforce 11 is the professional sprayer's fine finish HVLP system.
The unit is portable weighing just 19kg and has a stainless steel casing for durability.
Each unit comes complete with the Edge 11 PLUS spray gun with #3; #4; #5 needle/nozzle kits and 9m of superflex air hose, plus a 1.2m flexible whip hose
The Graco Edge 11 PLUS has the following features:
control of material volume, air flow control; spray fan width control

flex liner bag sytem allowing spraying in any direction, even upside down

easy change needles, no tools required
The Turboforce 11 Procontractor 9.5 has a 5 stage 'smart start' turbine which shuts off when not in use so as to reduce heat and extand turbine life.
FlexLiner Bag System
Spray in any direction, even upside down
Colour change in seconds, without spillage
Easy Clean-up
- Re-use liners or toss it's your choice
- No suction tube to clean
Use the cup as a paint storage can
Adjustable Air Cap
3-position rotation quickly changes
spray pattern
Easy Set-up
Quick-release Needles Patented
- Change out Needles from front of the gun with just one click
- Easy Change, easy clean – no tools needed
EDGE™ II Plus Gun
- Ultimate control with independent user controls for material volume, air flow, and spray fan size
- 4 x more productivity
- FlexLiner Bag System
Industry Leading Dual Filtration System
Automotive-grade filter has high performance filtration.
Outperforms foam and traditional paper filters used on most HVLP systems.
Smaller, Lighter
Maximum jobsite portability – get jobs done faster and easier
➤ 50% smaller
➤ 30% lighter
➤ Rugged, stainless steel enclosure  protects turbine during transport
TurboControl System with LED Display
Adjust the TurboForce turbine speed to match the performance you require
➤ Reduces heat build-up
➤ Runs quieter
➤ Extends turbine life
➤ 50% longer hoses
SmartStart™ Turbine
➤ Automatically shuts off when not in use — if you're not spraying, it's not running
➤ Reduces jobsite noise, resulting in less fatigue
➤ Automatic shut-off reduces heat and extends turbine life
Free Shipping

We offer free shipping on orders over £100
Any help?

If you require any help or advice, or wish to place your order over the phone, please call +44 0113 231 0500. Alternatively, you can send an email to info@sprayplant.co.uk. Don't forget, we offer free delivery on orders over £100 ex. VAT!