Regular price
Sale price
£4,395.83
Unit price
per
Sale
Sold out
excluding tax
Call us now 01132310500
755652817994
Share
View full details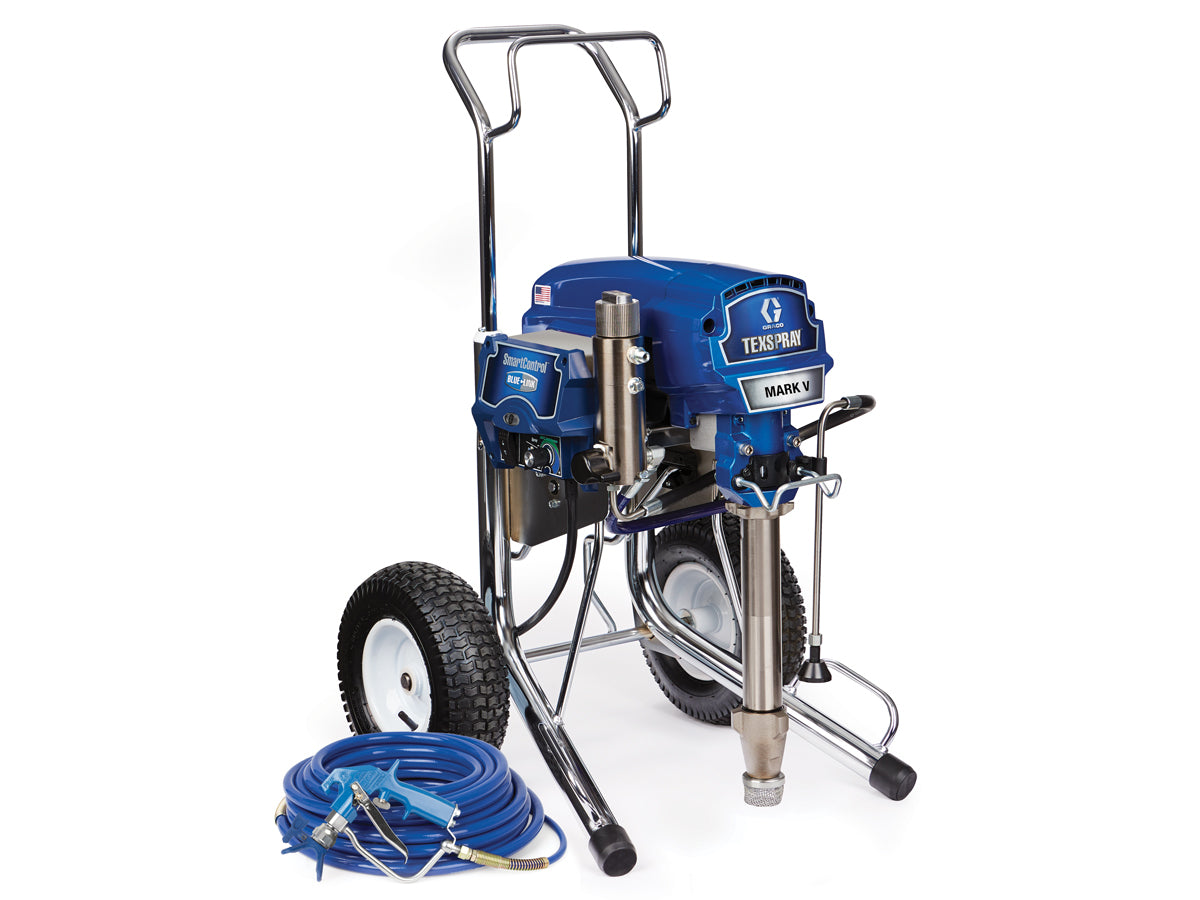 Description
The Graco Mark V is the electric airless sprayer for spraying paints; intumescent coatings and sprayable plasters. It is the Industry standard for heavy duty coatings, with proven reliability and performance.
The Graco Mark v is suitable for internal and external painting jobs, and can support up to a 0.039'' airless spray tip, or support two guns with smaller tips. 
Buy in confidence with the Graco Warranty: 5 years on electric motors and drive systems; 2 years on control box and pump lower hard parts.

• Trust in proven technology with the Advantage Drive System. Runs quiet and is guaranteed for life!
• Rely on the industry standard: the Graco Endurance™ Pump.
• Count on the SmartControl™ 3.0 Pressure Control to get your daily job done! It delivers a consistent
spray fan without fluctuations while protecting your investment against bad power conditions.

Features:
SmartControl™ 3.0 with Pressure Gauge
Graco's advanced SmartControl 3.0 offers precision pressure control that
delivers a consistent spray fan without pressure fluctuations.
- Spray thicker coatings and run longer hoses
- ProGuard™ Sprayer Protection System guards against bad or extreme job site power conditions

Endurance™ Pump
Graco's proven and reliable piston pump technology with LongLife-V packings.
QuickAccess™ intake valve to easily clean or clear debris. Spring loaded for better pump efficiency.

Advantage Drive™
The drive is the critical link between the engine and the pump. Graco doesn't leave the manufacturing of our Advantage Drive System to others; rather, we design and manufacture them at our world-class manufacturing facility in the United States.
- Hardened steel gears run extremely quite
- The most durable, longest lasting drive in the industry
- Lifetime warranty


for UK - 110 V
Max. Tip Size: with paint - plaster 0.039''- 0.041''
Flow - l/min. (gpm) 5.1 (1.35)
Max. Pressure - bar (PSI) 230 (3300)
Hose 15M X 3/8
Whip Hose 0.9M X 1/4
Gun HD Blue plaster
Tip Standard PPA427; HDA531
Weight - kg (lbs)68 (151)
Motor Type DC Brushless
Motor Rating - kW (HP)2 (2.8)

As a Graco authorised distributor, all equipment sold by us is CE marked.
Beware of buying equipment from other sites where equipment sold is imported and not CE marked which voids warranties and contravenes Health and Safety regulations

Spray Plant stock  graco spare parts, graco repair kits, spray tips, and graco accessories for the Graco airless spray units. call for details
Free Shipping

We offer free shipping on orders over £100
Any help?

If you require any help or advice, or wish to place your order over the phone, please call +44 0113 231 0500. Alternatively, you can send an email to info@sprayplant.co.uk. Don't forget, we offer free delivery on orders over £100 ex. VAT!